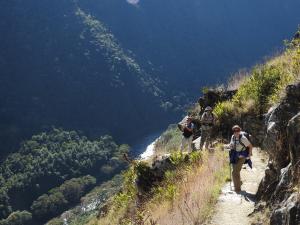 Are you curious about hiking the Inca Trail?  Are you concerned about the altitude, your knees, your feet and "what if?"  Then this is written for you.

You are not alone.  Eleven months of the year, up to 450 permits (200 for 4 day hike and 250 for the 2 day hike) are available for foreign visitors every day to hike the Inca Trail. Some are experienced hikers. Others, not so much. (Beginning 2016, permits for 1-day Inca Trail were separated from permits for 4-day Inca Trail. Why? Read more) The good news is that it's not common for hikers to turn back before reaching the Machu Picchu ruins. Nearly 100% who begin the hike, finish the hike. This is due in part to the dedicated licensed guides who often have to coax and sweet talk the small percentage of hikers who need additional help, each step of the way.  
Here are links with costs for 2 different routes to hike the Inca Trail:
4-Day Inca Trail hike is 26 miles/41 KM total length and includes 3 nights of camping. Permits can be viewed on the official government website.  These usually sell out many months in advance. The highest point is Dead Woman's Pass (approx 14,000 ft/ 4260 m)

2-Day Inca Trail hike

 is the same trip as the easy 1-day Inca Trail hike. Total distance is about 12 KM/7.5 miles. The highest altitude is 8800 ft/ 2730 m. Permits are required and availability can be viewed on the Machu Picchu government website. Permits rarely sell out and can be purchased last minute. Includes 1 night hotel in Aguas Calientes.
Here's the list of factors most likely to affect your ability to complete the hike:
Misjudgement of the difficulty. While the terrain has steep switchbacks, uneven stone steps, not to mention paths of rough cobbles, the trail is not a technical hike. Most inexperienced hikers can negotiate the trail. But when combined with altitude, the rough terrain and lack of oxygen can lead to unexpected slow progress.
Not enough time to acclimatize before beginning the hike. Package hikes don't include additional days to acclimatize before beginning the hike.  It's up to you to decide how many days you need and where you want to spend them. People who are inexperienced, over the age of 50, or who know they are susceptible to altitude sickness, should plan to arrive in Cusco at least 2 or more days before beginning any multi-day hike.  
Poorly prepared. We're not saying you need to have the latest high-tech equipment, but the items most likely to contribute to your discomfort are: inappropriate footwear and backpacks that aren't designed to distribute the weight.
Fitness. That fact that you may have hiked hundreds of miles of the Appalachian Trail 20 years ago is not a qualifier any longer. Test drive your stamina with equipment on local hikes before you go.   
If you're concerned about making it on the full 4-day Inca Trail hike, then consider the 2-day Inca Trail hike. The 2-day trip includes 1 day of hiking on the Inca Trail for 12 KM/7.5 miles, an overnight in a hotel in Aguas Calientes and a guided tour of the Machu Picchu ruins on day 2. And no camping!  Should kids hike? We have posted a separate page of information to help you decide if your kids should hike. What about older people?  Call our US office in Virginia and we can review and discuss your questions.
Are there any easier hikes?  YES!  More easy hikes can be customized to your needs and include support vehicle. No permits needed.  Can be set up last minute.
For kids and seniors or anyone who might hike at a slower pace, here's what you need to know:
Unless you live at altitude, you should arrive in Cusco at least 2-3 days prior to starting the hike to allow for acclimatization. There are plenty of tours and activities to do. 
You should plan to spend the night before the hike in a hotel in the village of Ollantaytambo. (our first choice hotel is Tunupa, but there are a few others as well. We can book it or you can book it)
Average person takes about 6 hours to complete the hike, but we have had a few who barely made it to Machu Picchu before the last bus down to the village. If you don't make it to MP by 5:30 pm and you miss the bus, the only option is to hike another 1.5-2 hours to the village. In the dark. There are no cars or taxis.
You must carry a backpack with lunch (we provide), water, rain gear, warm outer wear and everything you need for the overnight. (Or to reduce your load, you can hire a porter to take 1 small carryon size bag by train and deliver to your hotel)
We can book the earlier train at 6:10 am to give you more time to hike. This is why it's best to book a hotel in Ollantaytambo close to where the train station is.
Contact our US office with questions or to make a reservation. 757-714-6649 (eastern time) 
It's easy to make a reservation:
choose your dates: every Tuesday for small groups, or any date for private groups that permits are available (min 2)

contact our US office by phone or email

 to ask questions or confirm availability - 757-714-6649 (eastern time) 
email copies of passport for each person
call our US office to process your payment with any major credit card
We provide a list of questions below to help you make an informed decision. Hikers come in all shapes, sizes and ages. So don't let those factors influence your decision. If you have doubts, these tips may help you decide: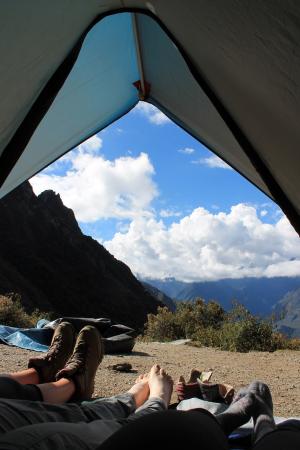 Are you active at home? You don't need to be a "hiker," but you should participate regularly activities that require physical exertion. Could be biking, vigorous walking, swimming, gardening, or employment that involves lots of movement
If you don't have a mountain nearby, test yourself by climbing the steps in a high-rise building. How many floors are you able to climb before becoming exhausted?  If less than 4, then you definitely need to "get in shape!"
Can you walk or hike at a steady pace of 3-4 miles per hour at sea level?
If you have a "bum" knee or ankle, does it respond to OTC treatments?  The Inca Trail involves ascending and descending, sometimes for hours. Your joints will be tired and even sore. Some hikers use support braces, massage & take oral pain relievers.
Healthy children under 12 are physically capable of hiking, but may not have the interest. Assess your child carefully before deciding.
Are you over 50? If you regularly participate in physical activities, there's no reason why you can't hike the Inca Trail. We have organized hikes for people in their 70's.
If you are out of shape, reserving a hike is a great motivator to get back on track with your fitness plan.
Altitude affects everyone differently and there is no way to acclimatize in advance when arriving from sea level.  All our hiking tour packages start with 2 days in Cusco (11,000 ft/3413 m) to allow acclimatization prior to hiking.  If you're making your own arrangements, be sure to schedule time to adjust to the altitude.  The good news is that the altitude at the trail head is 9000' /2743 m, which is lower than Cusco 11,000' /3350 m.
If you're hiking the 2-day trail, there is a time limit for the hike.  The day begins by driving about 1.5 hours from your hotel in Cusco to the train station in Ollantaytambo. We normally book trains around 7:45 am.  This means you get on the trail about 1.5-2 hours later.  And you must be through the exit gate at Machu Picchu by 5:30 pm to get the last shuttle bus down to the village where your hotel is located. There are no cars or taxi service. The walk to the village is 1-2 hours. But it's mostly downhill!
All our group hikes are small. 7 people or less. Our Inca Trail hiking dates will work for solo travelers, as long as permits are available.
This is a list of people who should definitely not hike the Inca Trail:
Anyone who has difficulty walking, whether it be on flat surfaces or inclines.
People over the age of 70 unless they are dedicated hikers at home.
People with chronic health conditions that affect their mobility or activity level
Asthma is not affected by altitude, but we recommend you discuss your plans with your physician prior to booking.
Pregnant women should not hike. There are no medical services available near the trail.  
Got questions? Call our US office in Virginia 757-714-6649
Send an email to Adios staff in the US office. They've hiked all the trails in Peru.