Adventure Voluntourism - Travel and Volunteer in the village of Callipata, Peru!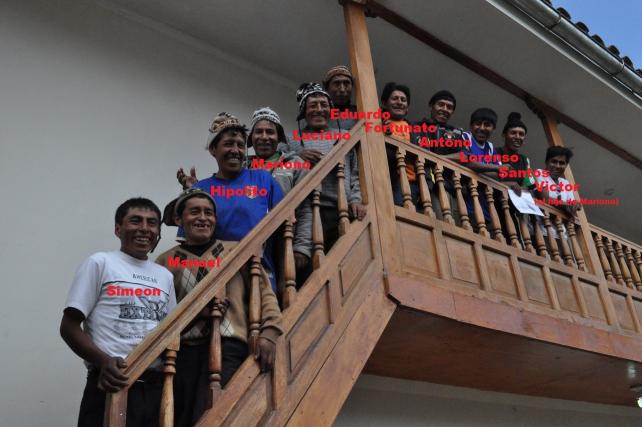 If licensed guides are the face of our company, the porters are the backbone. They are essential to the success of every multi-day hike, not just the Inca Trail. They carry all the equipment, including up to 11 lbs of personal gear for each hiker. They set up camp, prepare and serve meals, and as each hiker arrives in camp each day, he or she is greeted by a porter holding a bowl of  warm water and towels for a quick wash.
Jacquie Whitt and Vidal Jaquehua, both co-founders of Adios Adventure Travel support the efforts of porters to make meaningful improvements to their village.  And their lives.  So we went to their village to ask them how we could help.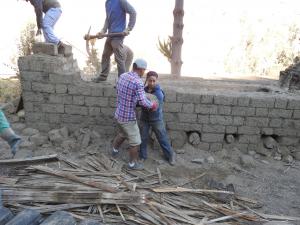 We sat down and talked with them to find out more about their needs.
They need:
-3-sided mudbrick shelters for livestock
-school supplies for the local school that serves about 80 kids from grade 1-6
-dental care / education and toothbrushes 
Each shelter costs $700 USD to build and takes about 3 days. 15 shelters are needed.  Local mud bricks and wood are used. Concrete, nails and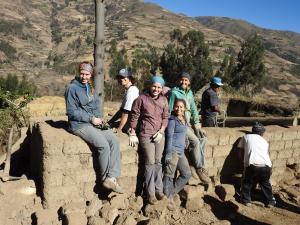 corrugated roofing must be purchased. 100% of each donation is utilized for these projects.
---

Join this trip June 27-July 3  Cost: $1192 USD 
(based on double/triple occupancy)
Day 1 June 27 - Depart US - Arrive Lima, Peru / overnight in airport hotel

Day 2 June 28 - Fly to Cusco/ transfer to hotel for overnight (B) Encantada
Day 3 June 29 - 4 hr drive to Callipata/set up camp/begin working on livestock shelters (BLD)
Day 4 June 30  - Continue working on shelters (BLD)
Day 5 July 1 - Continue working on shelters (BLD)

Day 6 July 2 - Work half day/drive back to Cusco / overnight in hotel (BL)
Day 7 July 3 - Transfer to airport for departure (B) Or stay & hike Inca Trail or take the train to Machu Picchu.  (Parents are invited to join us or travel with your child to Cusco and explore the city and surrounding area until students return.  Then continue together to hike Inca Trail or take train to Machu Picchu.  We'll help you with all your logistics once we know what your needs are.
Day 8 July 4  - Arrive Home if you choose to leave after the service project

Other ways to support this project:  make monetary donation or bring 1st Aid supplies, dental supplies or school supplies to your hotel in Cusco on your next trip.  We'll arrange a pickup and deliver to the village.
Includes:  airport transfers, all ground transportation, accommodations in 3* hotel with private bath, camping equipment, meals during the service project (BLD), English-speaking guides
Not included:  international flight to Lima, Peru, domestic flight from LIM-CUS-LIM, travel insurance, some meals, bottled water, tips, trip to Machu Picchu (can be added at the end)
 Here's a behind the scenes look at our voluntourism trip to the village of Callipata